---
Click Here to order this CD-ROM now!
---
The SR-71 "Blackbird" Flight Manual

The SR-71 family of aircraft needs no introduction to fans of military hardware, but for those of you unfamiliar with this incredible machine, allow us to briefly introduce it.

The Lockheed SR-71 "Blackbird" was a long range strategic reconnaisance aircraft with capabilities that remain unparalleled to this day. Although it is public knowledge that this aircraft could fly at speeds up to Mach 3.2 and altitudes up to 85,000 feet, the exact top end and ceiling remain classified and may well be higher still. The "Blackbird" broke many speed and altitude records in its prime, and many of those records still stand today!

Far ahead of its time, the SR-71 first flew in 1964 and was not permanently retired until 1999!

This CD-ROM contains the entire Flight Manual for this aircraft, except for a few pages which are redacted because they are still classified. The manual comes in HTML format (like a huge website, similar to most of our CD-ROMs), plus a Windows browser that organizes the chapters in a tree-like outline, and a convenient printable single PDF file! There is also a supplemental manual and a gallery of SR-71 photos from NASA and the US Air Force. If you were to print the manuals out, you would need over 1,000 pages!
We're still putting together a kick-ass description page for this CD-ROM (with screenshots of our Win32 browser!) but for now, here is a list of chapters and a couple of sample pages:
Chapters Included: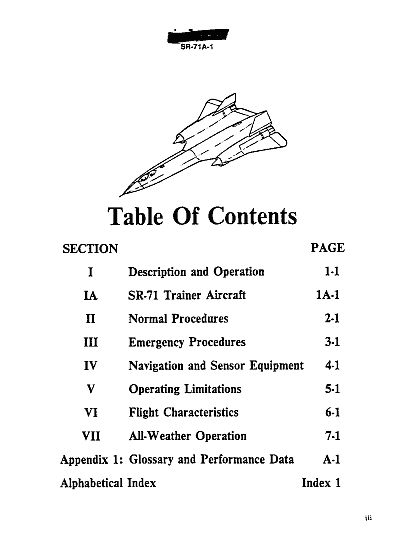 ---
Click Here to order this CD-ROM now!
---
SR-71A "Blackbird" Specifications
| | |
| --- | --- |
| Manufacturer: | Lockheed |
| Length: | 107' 5" |
| Length of Nose Probe: | 4' 11" |
| Wing Span: | 55' 7" |
| Wing Area: | 1,795 sq. ft. |
| Height: | 18' 6" |
| Empty Weight: | 59000 lbs. |
| Gross Weight: | 170000 lbs. |
| Fuselage Diameter: | 5.33 ft. |
| Service Ceiling: | 85,000 ft. (absolute ceiling is still classified - some sources place this above 100,000 ft.) |
| Maximum Speed: | Mach 3.5 |
| Cruising Speed: | Mach 3.2 |
| Engines: | 2 Pratt & Whitney J-58 (JT11D-20A) with 34,000 lbs. of thrust. |
| Unrefueled Range: | 3200 nm |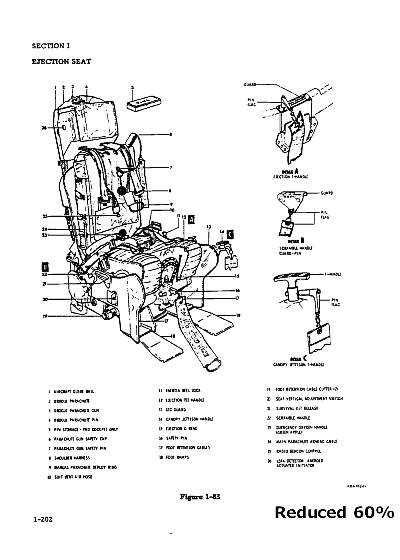 Note that this sample page has been greatly reduced for the Web and is actually of print quality on the CD-ROM!
Easy to navigate like all our CD-ROMs, the SR-71 Flight Manual comes with the signature HTML interface of all our CD-ROMs, and can be used either with a web browser or our included CD viewer (which looks very cool!). This is an AutoPlay CD-ROM which will start on most Windows systems as soon as you put it in your CD-ROM drive. This CD-ROM requires Windows 98 or later. The manual also comes in PDF format, which requires the Adobe Acrobat Reader, which is available for free!
---
Click Here to order this CD-ROM now!
---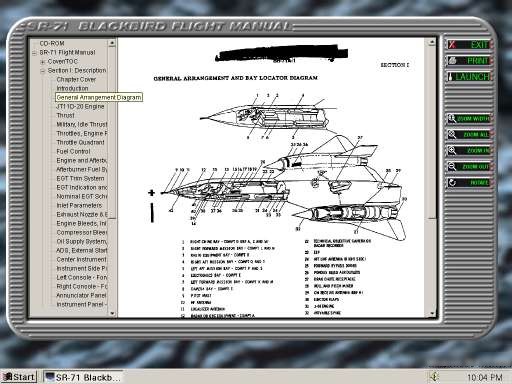 ---
We have secure instant online ordering!